Women Sustain is dedicated to empowering women in their journeys as powerful facilitators in environmental management and protection. It attempts to provide a platform to empower, document, appreciate and highlight women's unmatched roles in conservation of the natural heritage, as they are most often closest to nature through different innovative initiations. Generally, women are only considered as homemakers but in fact, they are the centre for not only balancing and managing the natural heritage but transferring vital knowledge on securing the environment and livelihoods from one generation to the next.
A. Women in Conservation - Recognition Platform
For many decades, women constantly have invested their thoughts, efforts and actions for environmental justice and nature conservation. Still their works are underrepresented and unrecognized in many societies. Understanding this situation, WCN is working with Gyanbodh Research and Development Studies to recognize women who are at the frontliners in the field of conservation. WCN hopes that this will enable in small ways to empower more women to take roles and display their leadership quality or decision-making capabilities.

B. Highlighting Role of Women In Media
Women Sustain Magazine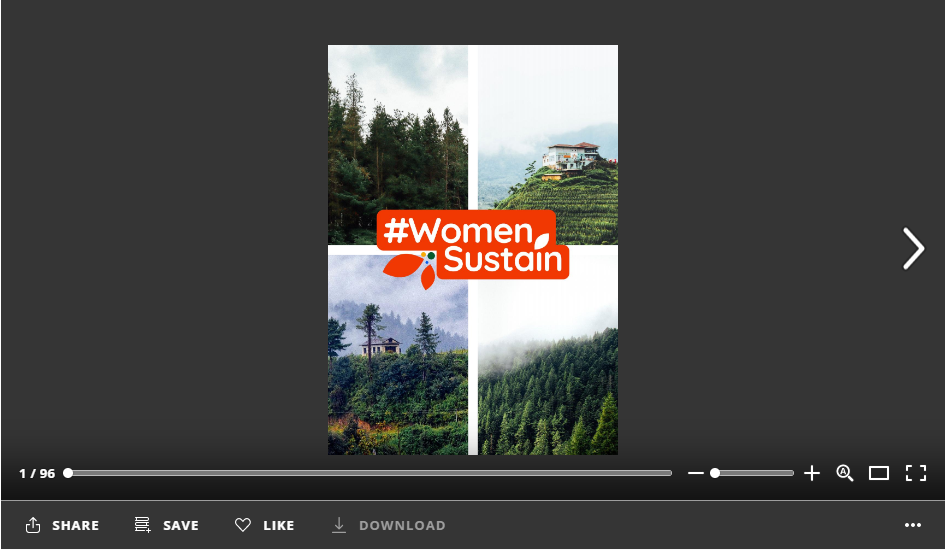 Women Video


C. Providing Alternative Livelihoods to Women living in the frontlines
STORIES FROM THE FIELD:
1. Women producing Essential Oil to fight poverty and climate change
WCN with support of Nordic Development Fund formed 10 women groups from 10 community forests of Nawalparasi District and trained them in cultivation, harvesting and distillation of Medicinal Aromatic Plants and business development skills. WCN recognized that these communities are extremely dependent on forest resources to sustain their daily livelihoods. Women of those communities spent their most of the time collecting resources from the forest. As they were not provided with the access to services, economic opportunities and role in decision-making, WCN focused to empower them and strengthen their capacity to promote forest restoration and enhance the presence of women in the conservation field.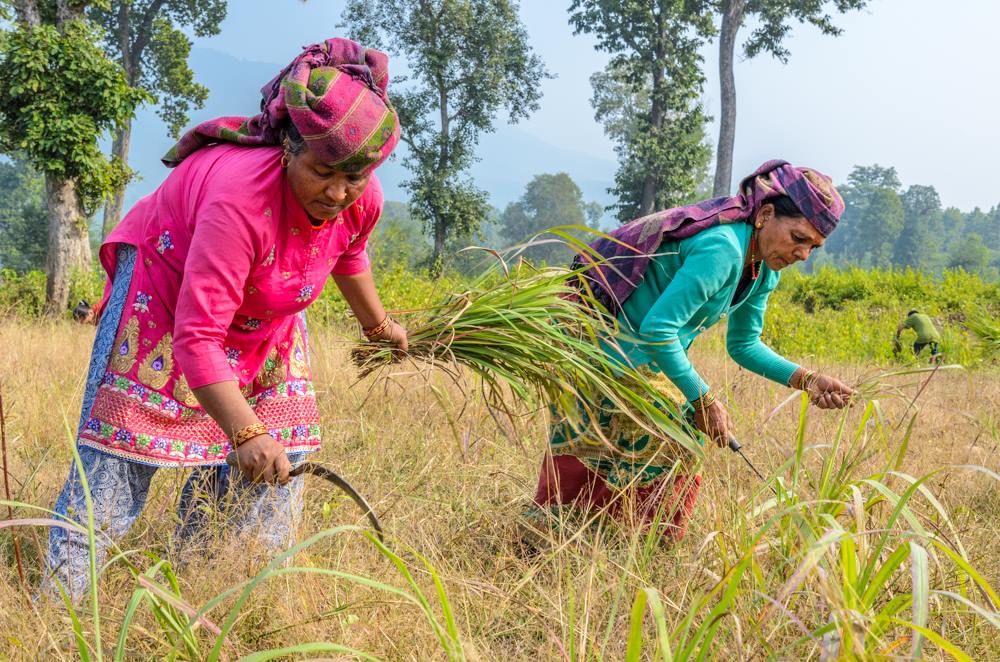 These women groups are now economically independent entities, which function as enterprises, and are currently running a nature based business focused on production of MAP (Lemongrass, Citronella, Palmarosa and Wild Turmeric). They are involved in the restoration of the degraded areas of community forests, cultivation, harvesting and distillation of Medicinal Aromatic Plants. The group also provides soft loans to the members of the group. Each group collects savings from individual members and saves it in their account. Each group was also provided with seed money also known as Green Capital Fund to run businesses that are nature based. These women groups have been very active and are already exploring opportunities with the local municipalities and district forest office and were also able to secure grants of maximum 2000 EUR for their group from the local available funds. In addition, a total of 185 hectares inside the community forest was brought into sustainable use.
110 households installed biogas units that reduced GHG emissions while providing them with fertilizers. In addition, the planting of fodder species increased households' income sources as cows were producing milk also during the winter season. These actions further enhanced the forest ecosystem and livelihoods while mitigating and adapting to climate change and its impacts.
2. Women and Bio Briquettes: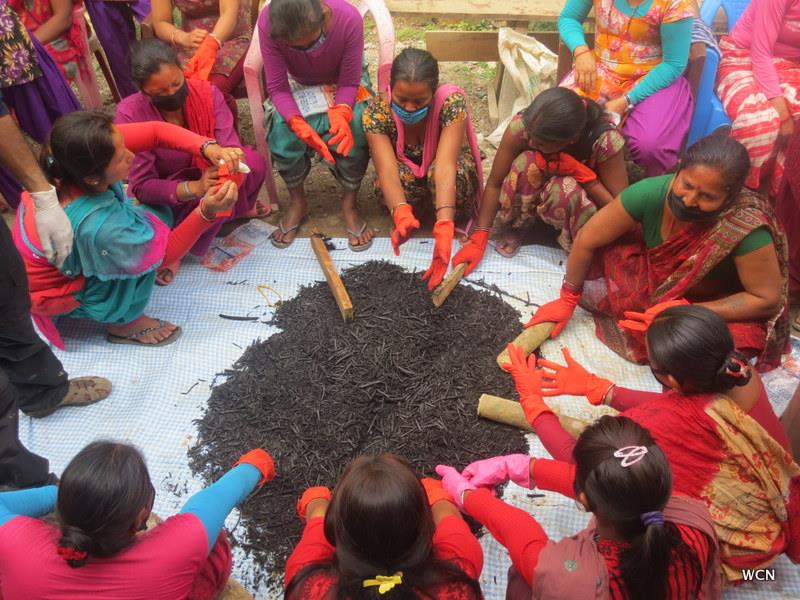 Alien and invasive species like Mikania micrantha, Eupatorium sp., and other weeds that can be found in abundance inside the community forests and are causing a huge hindrance in the growth of the new saplings. This has threatened the ecological balance in many forests around the country. WCN provides training to women groups of community forests to utilise the invasive plants as a resource for bio briquette. Tens of women of chitwan have taken training on making and packaging of briquettes using alien species and other weeds that are widely available in the community forest. Briquette making equipment are also handed over by WCN to the community and the women groups are actively involved in producing briquettes. Thus, this will help in minimizing conflict situations while meeting their energy demand and at the same time minimize the effect of alien species in the natural forest.

3. Exploring Alternative Livelihoods in Ghatgain: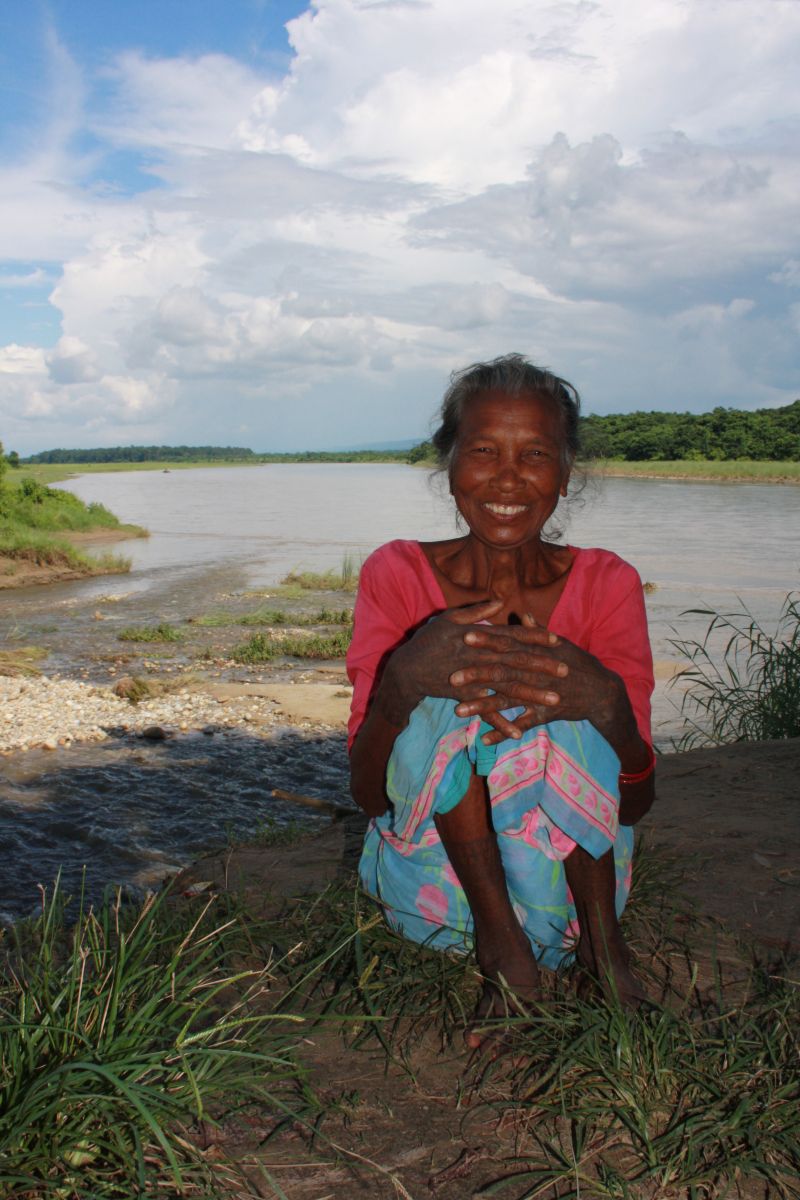 Ghatgain Village of Chitwan district survives mainly on fishing for living. Their traditional livings have less scope as the fish population in the Rapti river is dwindling due to overfishing and other anthropogenic activities. Due to this they are having hard time to meet their basic needs including education and health. WCN has focussed its livelihood program at Bote-community living in Ghatgain Village of Chitwan district, in 2013 providing them with economic opportunities through the promotion of green jobs, reduce heavy dependency on forest resources for fuelwood by utilizing invasive plant species for a production of alternative energy while also protecting the environment.
WCN introduced more vocational training to the community so that their dependency on natural resources for their living is greatly reduced and natural resources are conserved while uplifting the livelihood of local community through various alternative means of revenue generation.
Handicraft training is also provided to them to promote local and traditional art to manufacture easy-to-make, marketable items that are also attractive gifts and souvenirs that represent Nepali arts and culture. The local women group of Bote community on three different items like handmade greeting cards, wall hanger and handmade cloth frames. The products produced after the training are sold to souvenir shops at Sauraha. The low cost nature of this program has been the main attraction to the local community and is now demanding more vocational training.

4. Women in Dibyanagar: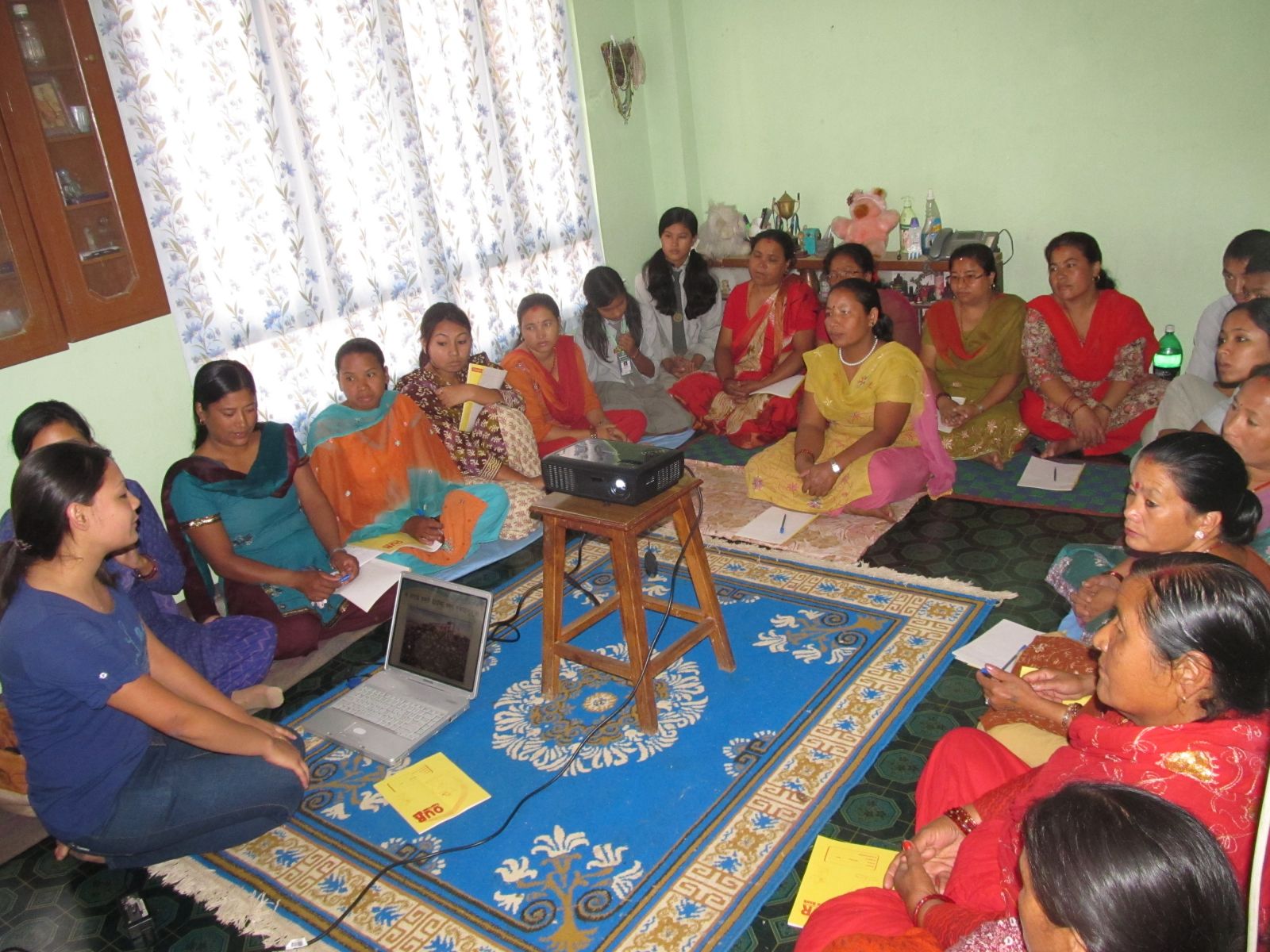 Dibyanagar VDC in Chitwan District of Nepal was a village widely recognized as an area for rampant poaching. In order to reduce poaching in this area, in 2005, WCN started to work with women of this community through many engaging projects like the Adult Literacy was initiated and an SLC passed girl of the village was appointed the duty of imparting education to this community in the evening hours. Women empowerment has directly contributed to wildlife conservation and reduction in the illegal poaching activities while also giving gender equity a new light there. Training to make pickles, jams, bread and methods to raise sheep and goats were provided to the community in order to encourage them to be earning members so that the men do not have to carry the sole burden of bringing money home through illegal activities like poaching.
Through data collected by our monitoring team it has been observed that poaching activity has reduced adversely in this area after the launch of this project. This has been ensured through adult literacy programs and provision of alternate sources of income. The increased income opportunity leads to reduction in poaching as women can discourage men from committing wildlife crime which will ultimately protect the wildlife.

Related Article:
Related Events