Youth for Smart Solutions 3: Looking at Sustainability Post COVID-19
Coronavirus has disturbed the political, social, economic, religious and financial infrastructures of the world. This pandemic has reminded us that the system we live in is not sustainable anymore. It has caused the largest global recession in history, with more than a third of the world's population being placed on lockdown. The International Monetary Fund (IMF) projected the global economy would shrink by 3% in 2020 causing severe worldwide unemployment.
Now, our planet faces unprecedented environmental degradation, climatic change, social inequality caused by a dramatic increase in the human appropriation of natural resources to keep pace with rapid population growth, shifts toward higher consumption, and higher energy demand. We need to address these challenges and find sustainable solutions as the economy will bounce back and consumption of Natural resources will accelerate after the spread of the virus is contained.
The COVID-19 pandemic is a further reminder of the delicate relationship between people and our planet. The challenge we face is how to recover from the coronavirus, and ensure our future to be more sustainable environmentally, economically, and socially while improving our knowledge regarding the delicate relationship between people and our surroundings. Thus, the "Youth for Smart Solutions 3" WCN's Conference for Young Nepali Scientists focused on several sub-themes.
In the early days of the pandemic, people have experienced less pollution due to lockdown in most of the areas around the globe, but it has been very short-lived. The pollution level rolled back to a level that the world has ever seen in the past while the magnitude of Covid-19 is increasing day by day. Though the scientific community around the globe is yet to determine the linkages between poor air quality and adverse health outcomes of COVID-19, it is clear that bad air quality will impact people with respiratory problems which will get worse with Corona.
During the conference, Day 1 of the conference focused on "Environment Sustainability Issues Amidst the Pandemic in Nepal" as this pandemic has disturbed the political, social, economic, religious, and financial infrastructures and made us realize that the system we live in is not sustainable anymore. While Day 2 focused on our "National Policies and Strategies for Achieving Environmental Sustainability While Combating the Negative Effects of Pandemic in Nepal". Moreover, Day 3 focused on "The Importance of Communication in Pursuing Sustainability and Recovering from Natural and Health Disasters".
The objectives of the Conference:
Conduct an engaging and informative national conference for 100 young scientists of Nepal creating a discourse on contemporary issues on education, communication, and environment for sustainability after COVID-19

Create a platform where all relevant organizations can come together and share case studies, success stories, and challenges in the field to work on sustainability while living with COVID-19 and create discourse between young scientists and national and international experts on sustainability issues

Share the proposed ideas from the conference participants and presenters with relevant stakeholders to take the idea forward, nurture and develop it into a feasible reality

Organize an exhibit where young scientists can present innovative ideas, concepts, and findings
The whole program was divided into three sessions:
Opening sessions

Presentations by Expert and Q&A session

Paper presentation/ideas/solution research by researchers :Young Scientists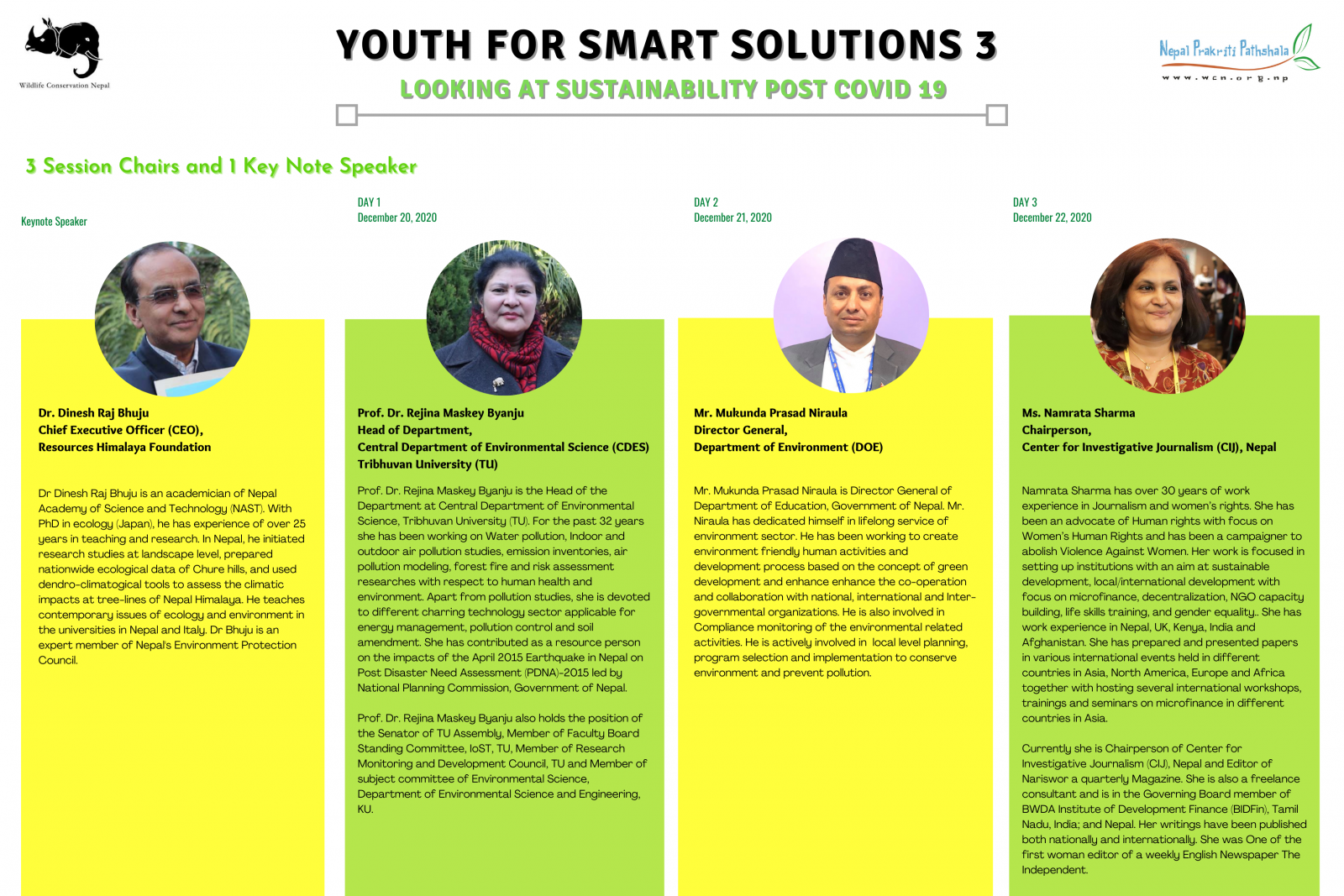 Day 1 Declaration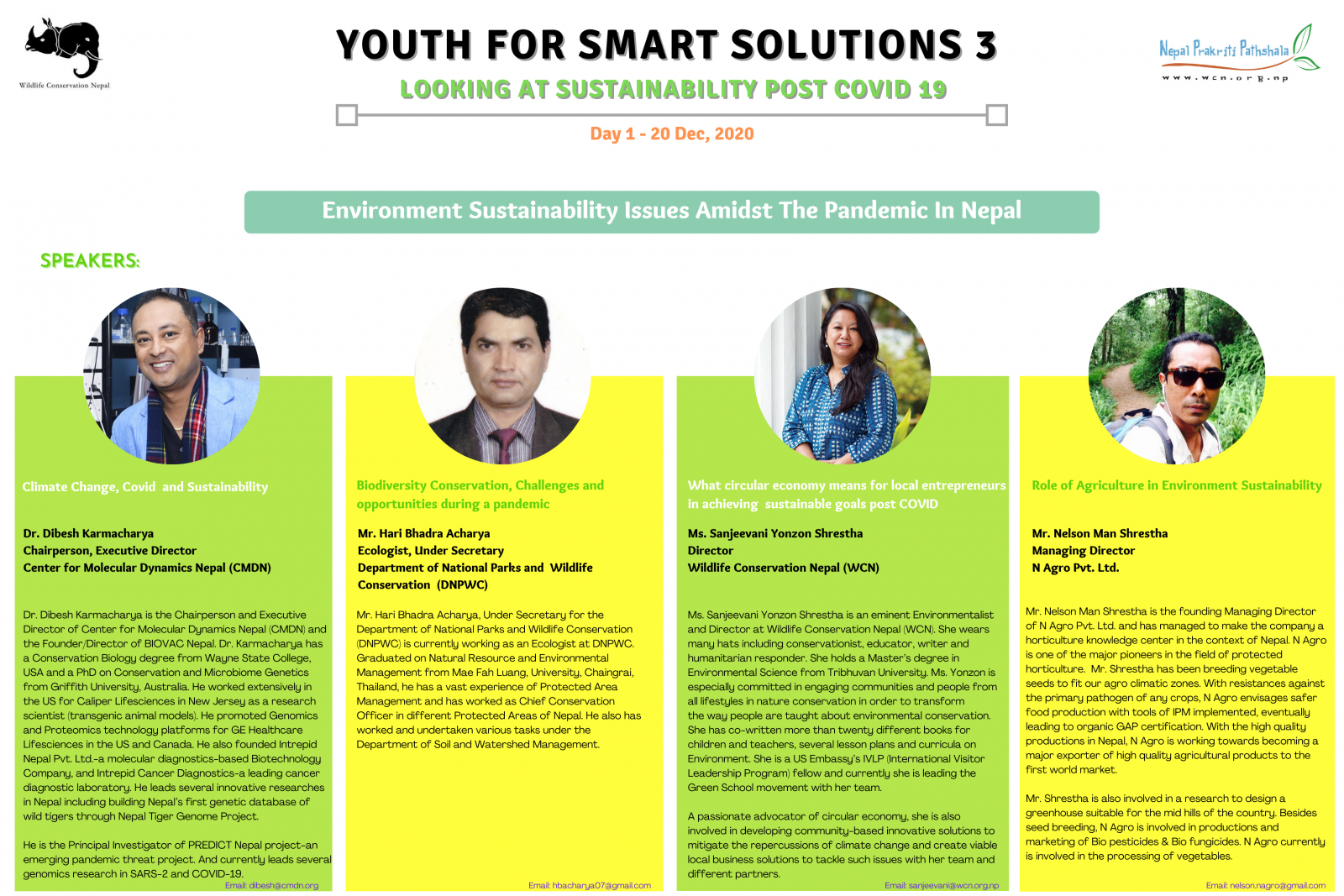 Climate change is one of the biggest problems of the world creating threats to ecosystems, coastal cities, food systems and health therefore policies must be designed to address it.

Informed management based on research is required to address COVID situation, protect ourselves, and involve youth in this process so they can better tackle future environmental and health disasters.

The viruses are transmitted to humans when we disturb natural ecosystems. Therefore, we should learn to respect the ecosystem boundaries and nature.

COVID 19 has been challenging to the ecologically important areas like the National Parks with escalation in poaching. To counter such activities communication, strategies and involvement of local youths in conservation must be prioritized.

Behavior change starts today and needs repetition, therefore effective communication is required to bringing changes in our behaviors and perspectives

We must promote companies into making sustainable, durable, recyclable and just products that begin and enforce circular economy in Nepal.

Government must effectively communicate to empower consumers and public offices to make informed choices that support SDGs.

Public must be made aware of green washing by companies and their products. For this, cooperation and collaboration with young scientists, local authorities and municipalities is needed.

We should provide trainings to farmers about new technologies and sustainable agricultural practices. Youths need to come together and bring sustainable ideas.

We need to remove excuses for inaction and plan and work to cope and recover from pandemic situation and prepare for such future events.
Day 2 Declaration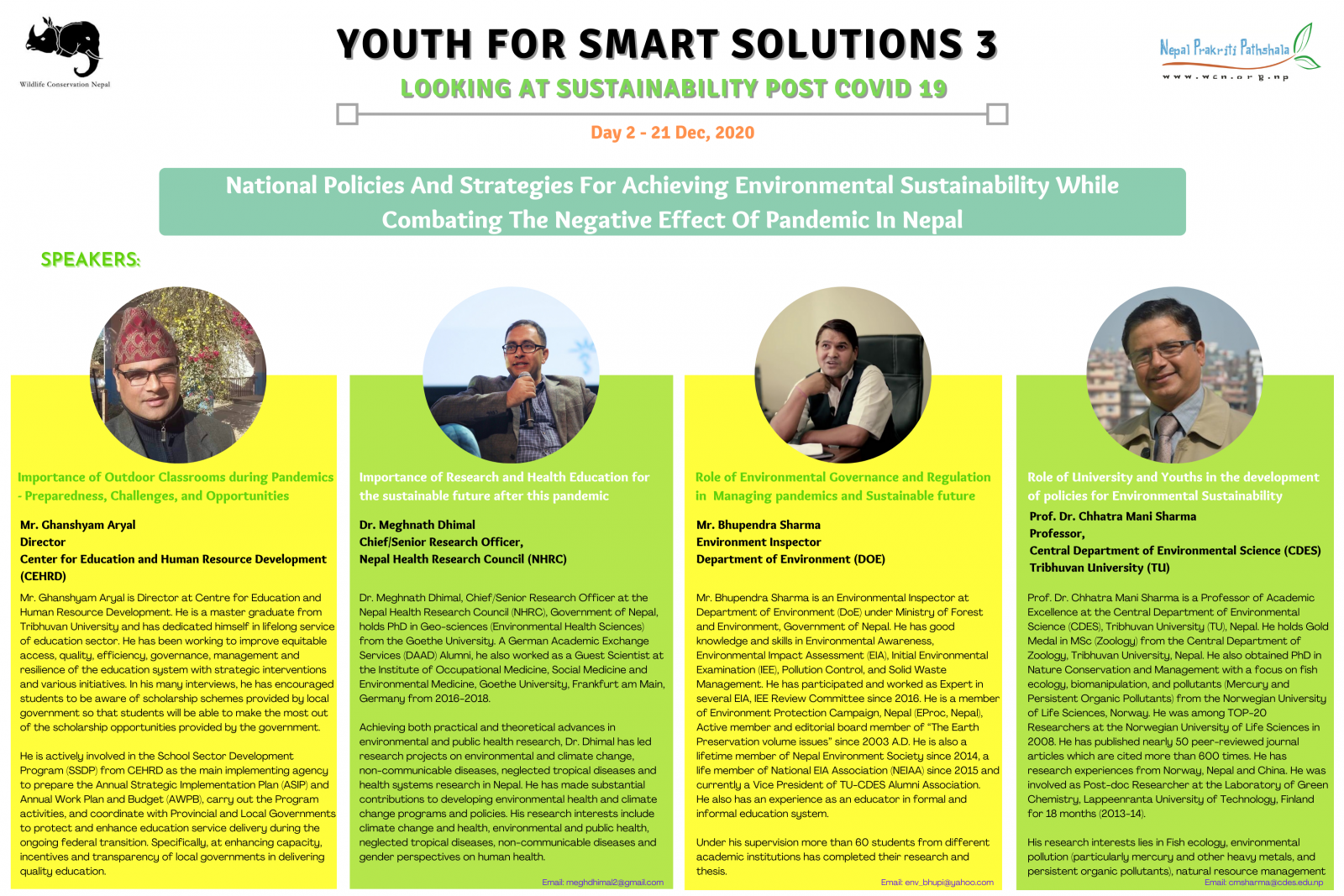 Government must invest on education, health, environment, and strengthening the voice of youth of nation.

Research shows the experiential learning and Outdoor classroom is the more effective learning. Therefore, we need to emphasize on experiential learning systems across the country. In pandemic and post pandemic situation, we need to promote outdoor classes and strengthen the Green School Directive in Nepal.

Environmental governance helps to maintain the better environmental conditions, helps to construct environment friendly infrastructure, contributes in sustainable development, and minimizes the loss of life and property from any disasters and catastrophic events like COVID 19 therefore it must be strengthened with youth as central actors and stakeholders.

Linkage in curriculum of schools and colleges, connecting youths and students to industries, government bodies, NGOS/ INGOs working in environment sectors, is essential

We need to focus on political aspects and data information systems, transparency and accountability for better policy implementation. We should also adopt policy debate culture with multi-stakeholders.

To conserve the biodiversity of forest, we need to prioritize on income generating activities of local people through their involvement in sustainable activities.

Research shows that the significant increase in interest in sustainable activities and lifestyles in the public; this must be capitalized at municipal, provincial and national level.
Day 3 Declaration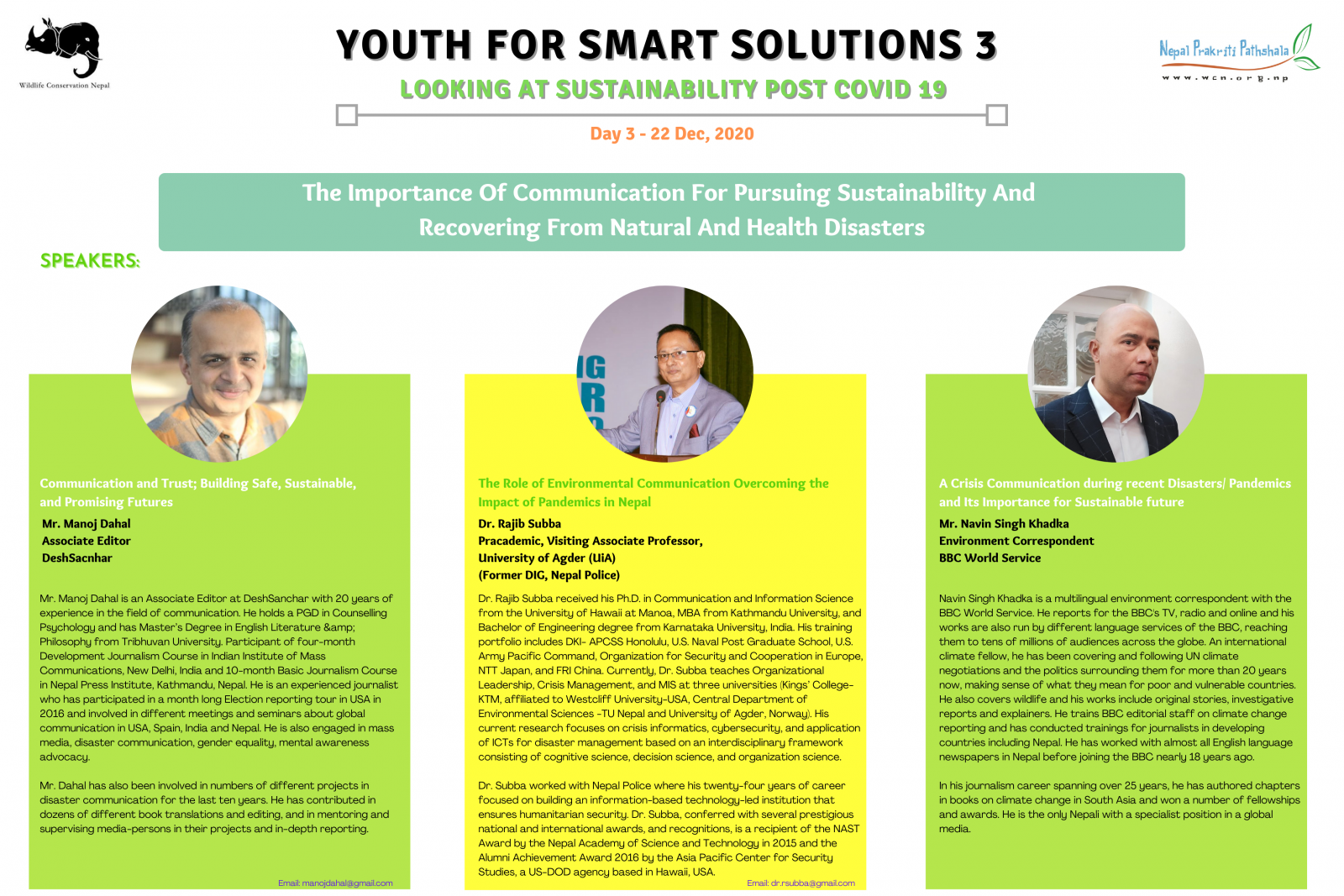 Digital media has become the platform to inform public swift and effectively but there are marginalized groups like older generation who must be brought in this accessibility through practical strategies.

We need to careful with the news and information on the internet before we trust them

For effective communication, the government bodies must make use of all communication platforms including increase their presence in these platforms so that public can access and interact more timely

Communication of the government must be as strong as that of the public

Government must utilize scientific knowledge and wisdom to formulate plans, strategies and policies and communicate properly to the community

Global context must be broken down and translated to what is and how it is relevant for local communities at ground level

We should focus more on the positive aspects of communication rather than the lacking parts during this pandemic.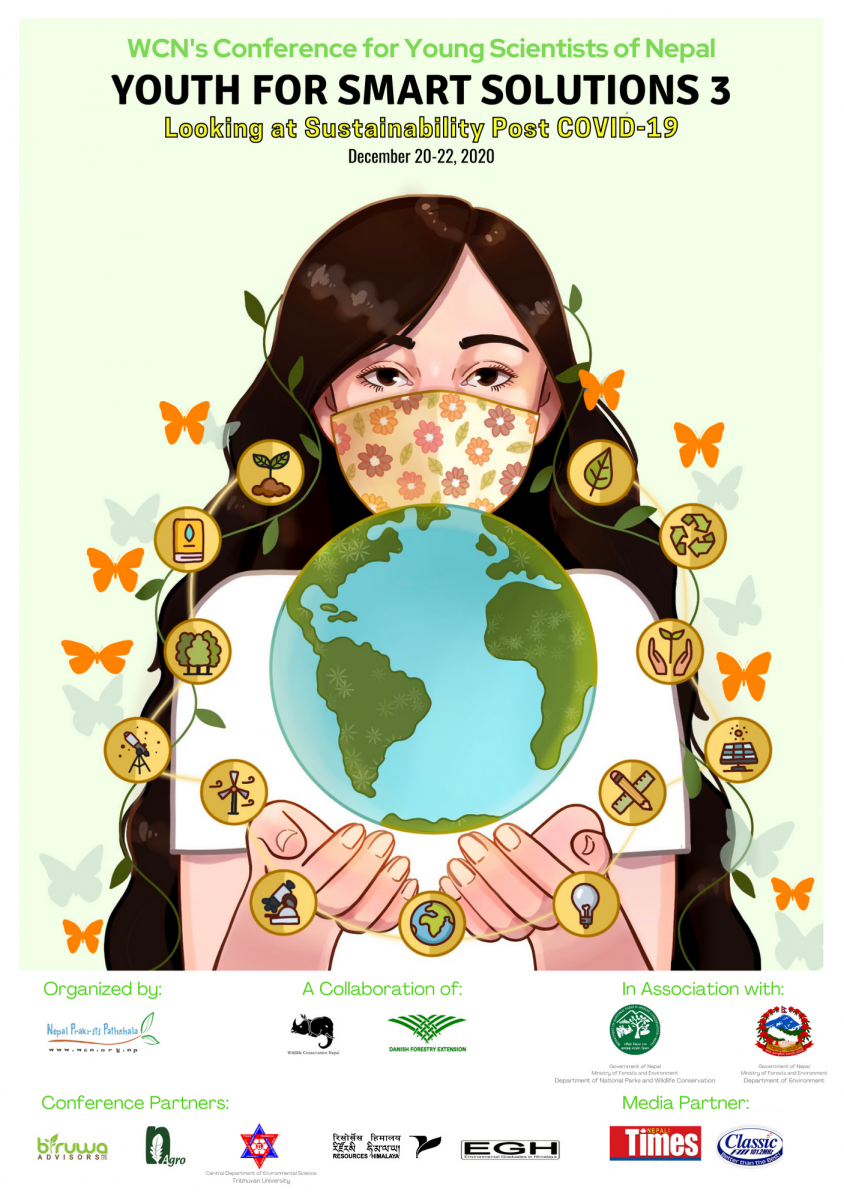 The Conference was inaugurated by Mr. Mukunda Niraula, Director General, Department of Environment (DOE). Prof. Dr. Surya Ratna Gubhaju, Chairperson, Wildlife Conservation Nepal (WCN) chaired the opening session. Mr. Prasanna Yonzon, Chief Executive Officer, Wildlife Conservation Nepal (WCN) gave his opening remarks while Dr. Dinesh Bhuju, Chief Executive Officer, Resources Himalaya Foundation (RHF) presented his keynote address at the conference.
More than 125 young scientists registered for the conference from Nepal. Eleven eminent experts presented their expert work in relevance to the theme of each day of the conference. Out of 60 papers submitted, five finalists were selected to present their research study at the conference. The research papers were evaluated by Mr. Prakash Chandra Aryal, herpetology expert and academic coordinator at Golden Gate International College in the Department of Environmental Science, Mr. Bal Mukunda Pokhrel, Program Officer, Alpine Consultancy Pvt. Ltd. and Mr. Nabin Gopal Baidya, Program Manager, WCN. Moreover, 2500+ people were reached through WCN's Facebook page. The conference was divided into Expert Presentation Session and Paper Presentation Session.
During the closing ceremony Mr. Flemming Sehested, Director, DFE shared his few words and Ms. Sanjeevani Yonzon Shrestha presented Conference Summation and Declaration while Mr. Nabin Gopal Baidya, Program Manager, WCN announced top 3 research papers.
Nepal Prakriti Pathshala organized this Conference in collaboration with Wildlife Conservation Nepal and Danish Forestry Extension, in association with the Ministry of Forests and Environment, Department of National Parks and Wildlife Conservation and Department of Environment. The conference partners were Biruwa, N-Agro, Central Department of Environmental Science,TU, Resources Himalaya Foundation and Environmental Graduates in the Himalaya. And, our Media Partners were Nepali Times and Radio Partner, Classic FM.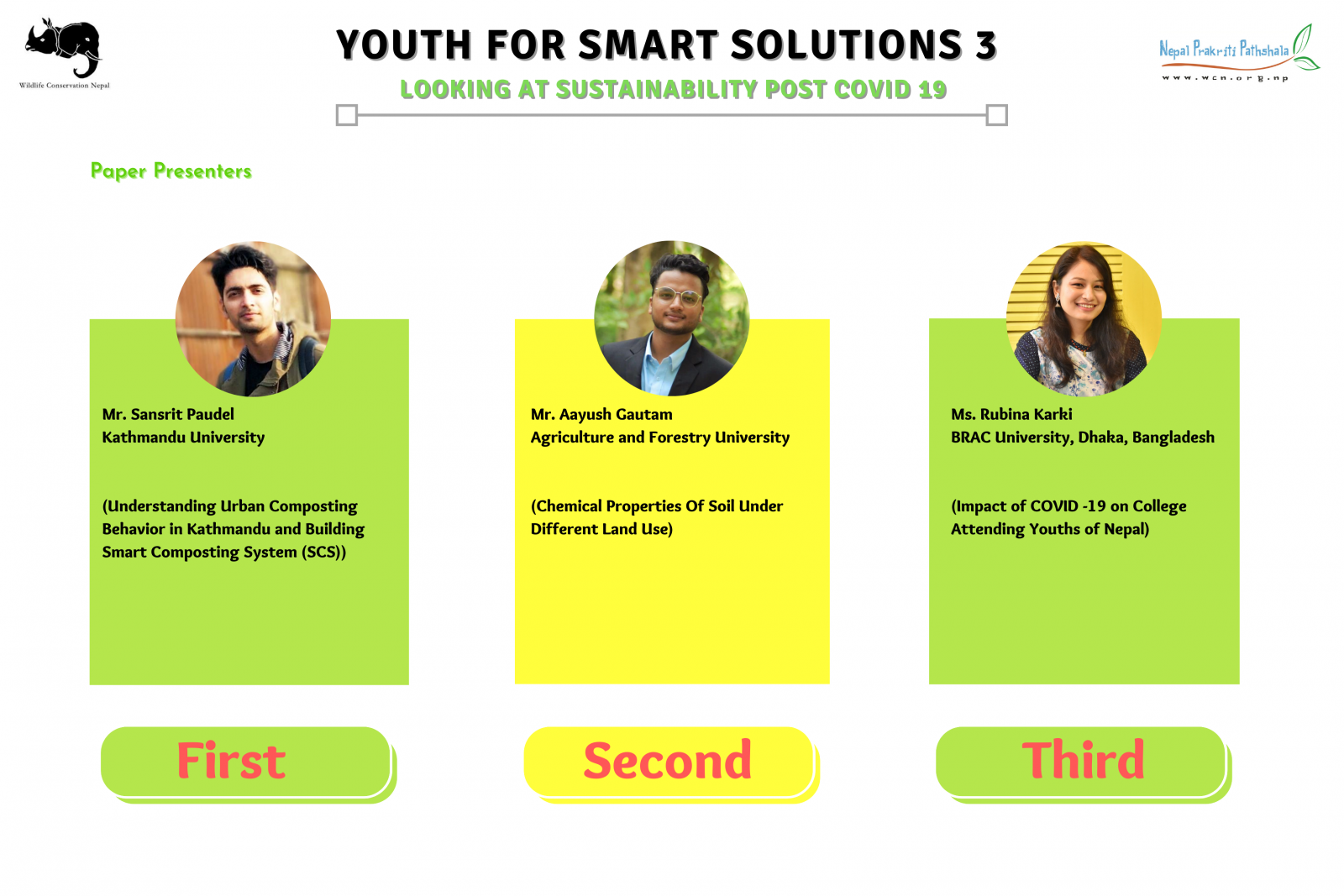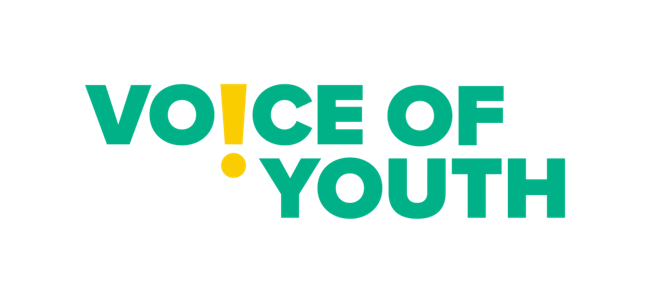 Being the agricultural country it is very important to enhance our productivity in a more sustainable and economical way. So, therefore, using the scientific tools n methods and active participation of the majority of youth would help to leads the country in a prosperous way for better sustainable development.
Apsara Basnet,
Tri-Chandra Multiple Campus
Realizing global impact of our unsustainable behavior, we must focus on changing those behaviors from grassroots level. 2) Investing in sustainable infrastructure 3) Giving more emphasis to the nature based solutions
-Sarita Bhandari, Agriculture and Forestry University
How our life revolves around the economy, how we should transform from growth to progress, and about transitioning to a circular economy (by reducing consumerism).
-Sweta Dixit, Golden Gate International College
To bring the positive changes I could be one of the influencer so I will be aware and lead to the future without exploiting the natural resources that affects the environment and its sustainability. The concept I learned was that Education and Constructive Communication are essential in this fight for our planet.
-Babita Aryal (Naaya Aayam Multi-Disciplinary Institute)
I do not and will not my make my elders and family members to be engaged in corrupt works or corruption by my demands that they cannot afford to me. I will be happy with the basic needs that they can afford to me. (Decent work)
I found Concept of circular economy, "Political Change not Climate Change"
-Alina Shahi (Central department of environmental science, TU)
The one commitment for me is to avoid refusing as much as possible and I believe in learning and educating hence, I would teach all of my friends and family about
-Shreesha Bhattarai (Kathmandu University)
I feel through researches at university level, youths can find the gaps in researches and policies from where they can push for proper implementation and policy-making. They can also work their way towards sustainability by voicing out solutions to the current challenges.
- Chetna Gurung (NAMI College)
Universities can play a greater role in encouraging students to carry out relevant researches under their supervision. Also can form an aware team of youth environmental advocates to take actions and uplift their voices from local to policy level.
-Sumnima Ghimire (NAMI College)
Effective practical courses in interesting ways related to the sustainability through various researches must be developed involving the Government, so that youth can lead change for better future.
-Sudha Shrestha (Trichandra Multiple Campus)