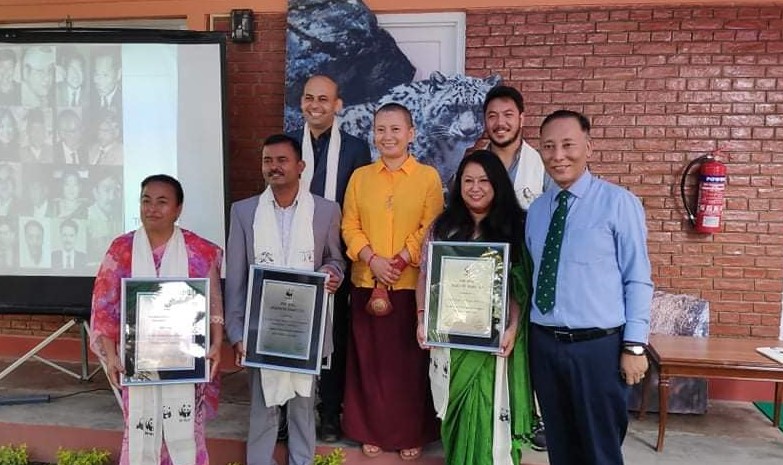 Ms. Nancy Abraham, an environmentalist who was inspired by the dedication and passion for conservation displayed by a national park staff, founded the Abraham Conservation Awards in 1995.
Later, the Awards was reinstituted as the WWF Nepal Conservation Awards in 2018, with the goal of recognizing and honoring individuals and organizations at the grassroots level who have made significant contributions to protecting Nepal's rich biodiversity. The awards cover a range of themes in conservation and natural resource management and aim to motivate and inspire frontline conservationists.
This year, Ms. Sanjeevani Yonzon Shrestha, Director of Wildlife Conservation Nepal was awarded with WWF Nepal Conservation Awards 2021 in recognition to her dedication and commitment to the conservation of nature in Nepal.
Established in 2002, Wildlife Conservation Nepal is a non-governmental homegrown leading Nepali organization working in the field of conservation and education with path breaking successes. WCN supports government agencies to protect wildlife beyond protected areas, and involve local communities, civil societies, scientific communities and conservationists in environment protection, natural resource management, promote sustainable use of natural resources and biodiversity conservation so that the benefits accrued reach the grass roots while ecological balance is maintained. WCN continues to support biodiversity conservation by promoting, advocating, building awareness and safeguarding natural resources through policies, research , capacity building and studies that relate to impact of projects on natural resources prior to the initiation of the projects. WCN has been working on conservation and environment activities by bringing different stakeholders – judicial bodies, Nepal Administrative Staff College, Nepal Police, line agencies and conservation partners through seminars, workshops and training including in policy development.
| | |
| --- | --- |
| | |
Ms. Sanjeevani Yonzon Shrestha, Director of Wildlife Conservation Nepal, is a well-known environmentalist. Her career as a conservationist, educator, writer, and humanitarian responder spans a little more than two decades. Ms. Yonzon is especially committed to engaging communities and people from all walks of life in nature conservation and to transform the way environmental education is taught in Nepal. She has co-written more than twenty different books for children and teachers, several lesson plans and curricula on Environment. In the past few years, Ms. Yonzon has developed and implemented educational and advocacy programs and projects on wildlife conservation, waste management, climate change, and natural resource management in coordination with different stakeholders and different levels of government of Nepal. Feather on the cap, is her work with her dedicated team of scientists and educators to develop and implement the Green School Program in Nepal. She is currently leading her team to implement Green School Program across Nepal working with the central and local government.
Let's see what she has to say -
"It is my great pleasure to be accept this honor for our work in Conservation and Environmental Education. Oh behalf of my entire team and WCN family, I thank WWF Nepal for the award and thank each and every conservationist and environmentalist around the world who put in the hard work for the well-being of the planet and all those who live on it. I thank you because I know how important it is that we put in our efforts day in and day out, against the mighty tides of consumerism and capitalism-without applauses or accolades. Bringing back the focus on "Nature Capital" is the need of the hour and for that, we must continue to persevere to make every human being find their "Nature Connect" to their natural world. We are One and One with all."

Sanjeevani Yonzon Shrestha
Director, WCN
2021