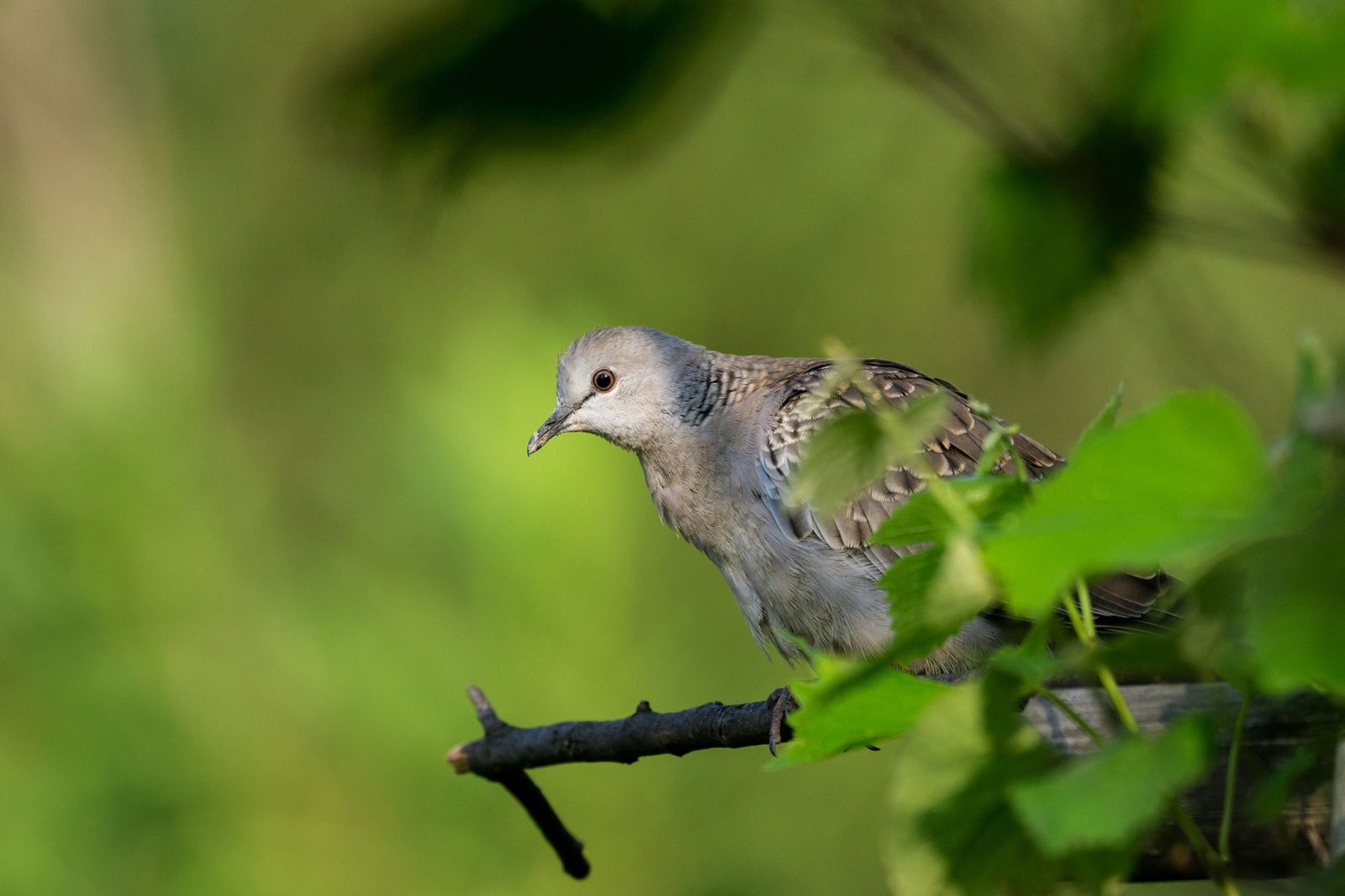 With lush green surrounding hills, fertile fields and wonderful weather for the most part of the year, Kathmandu Valley has always been the heart of Nepal. However, the valley's landscape is slowly being transformed with a constantly expanding concrete jungle and in that jungle- lives a busy population engrossed in their daily grind. City life can be hectic and stressful. And to cope with such pressures, we need to look up to nature and enjoy some outdoors and have a good time. Hikes, walks, runs, picnics, etc are some outdoor activities that one can do to reinvigorate oneself. As the concrete jungle is growing, the natural spaces are slowly diminishing but there are still places and nooks and corners, in Kathmandu where people can enjoy themselves with a dose of nature.
Bird watching and nature photography can be somethings one can do easily and connect with people with similar interests. This I believe also has a great potential of growing a community of like-minded people -who want to conserve remaining open spaces and nature of Kathmandu Valley.

Observing flora and fauna at their best is considered a good therapy and a relief from the hectic lifestyle people are living in the city. The noise pollution, air pollution, visual pollution along with the work overload our senses in a negative way. Getting into the outdoor activities and being one with nature has a lot of benefits like:
It's a form of meditation as you will be spending time in the wilderness staying quiet, away from the crowd. You will be having some moments to yourself away from distractions.
Teaches you the art of patience as sighting wildlife is not an easy thing. There are days where the stars align and you will be lucky with sightings but there will be times where catching a glimpse of wildlife might take a while.
Will help in the effort of conservations as your enthusiasm will create curiosity and interest among your family and friends. This kind of drive creates a network of citizen scientists who in turn can contribute to the conservation process of flora and fauna that is so fragile and needs the utmost attention in today's world.
As you in the outdoors, exercise from the long walks, fresh air, mental alertness, etc will be very beneficial to your mental and physical health especially in times of distress.
As a freelancer, I travel for various assignments out of the valley to remote areas where I am able to do wildlife photography but there are times when I have to be in Kathmandu and I do not want to miss out on being outdoors in nature. So when being in Kathmandu I would like to recommend the following places where I love to go for a hike and a quick nature photography trip.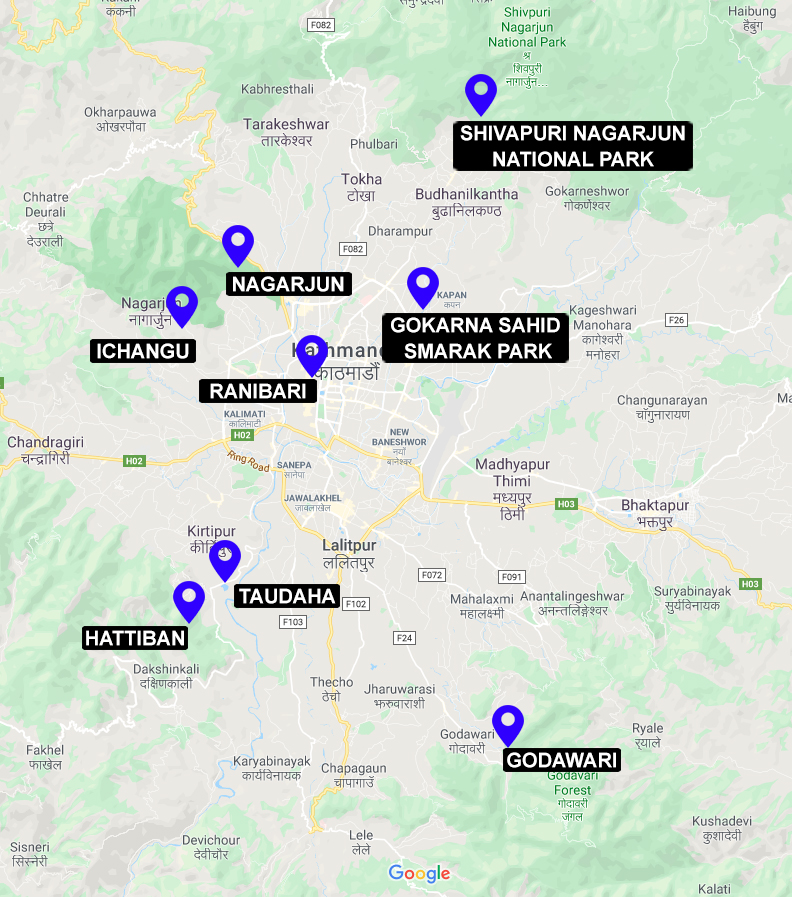 Ranibari Community Forest:
Ranibari Community Forest is a 6.95 hector of the forest right in the middle of the city near Lazimpat. Being the only community forest inside of Ring Road people come from around for various activities. Bird watching and other nature activities also happen frequently. Since this is the only community forest inside of ring road's concrete jungle it is a refuge for a lot of birds and some mammals. There have been sightings of mammals like Jackel, Jungle cat, etc and birds like Owls, Flycatchers, Barbets, Thrush, etc.
Shivapuri Nagarjun National Park:
Shivapuri Nagarjun National Park is the only National Park inside of Kathmandu Valley. It covers a total area of 159 km2. Having a massive area touching three districts Kathmandu, Dhading, and Sindupalchowk, the flora and fauna are also diverse. Mammals like Common Leopard, Barking deer, Yellow-throated Martin, etc and birds like Himalayan Vulture, Steppe Eagle, Kalij Pheasant, Yellow leaf bird, Laughing Thrush and many other species can be spotted. This is a perfect getaway for weekend hikes along with birding and nature photography. From Ratna Park, it's 11 km to reach Shivapuri side of the Sivapuri Nagarjun National Park entrance and you have to head north towards Budanilkantha bus stop. From there it's a 2 km hike uphill to the entrance of the park following the jeep track in the north keeping the temple on the left-hand side. For Nagarjun side of the Shivapuri Nagarjun National Park, you can take a bus to Balaju Macha pokhari and walk for around 1.5km to the entrance of the national park.
Ichangu:
Ichangu is known for its Ichangu Narayan temple but it is also famous among birders for the range of species that are found around that vicinity. Being in the buffer zone of the Nagarjun forest both the flora and fauna can be witnessed in its glory. Species of birds like Rubythroat, Flycatchers, Barbets, Minivets, Sunbirds, Magpies, Wallcreepers, Treepie, etc and mammals like Common Leopards, Yellow-throated Martin can be spotted in the buffer zone. Lately, the housing boom around Ichangu has in some way impacted the flora and fauna. To reach Ichangu you can take a bus to Swayambhunath, Ring Road and then follow the jeep track west (Opposite of Buddha Park) and continue uphill for the next 3.5 km.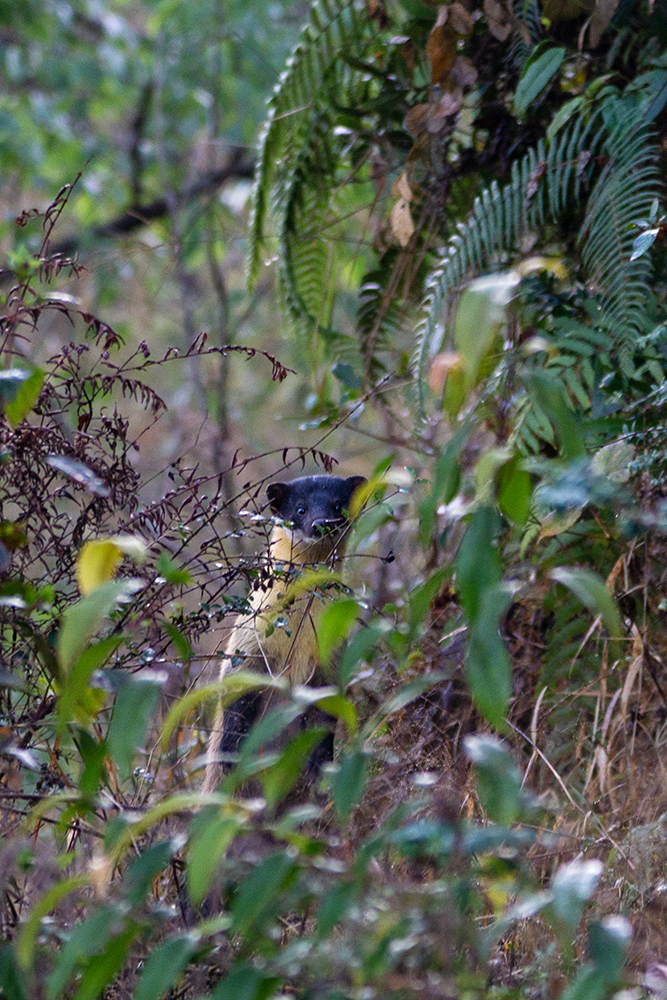 Taudha lake:
Taudaha is a famous small lake occupying around 4 hectors of area. This lake is 7km from Balkhu towards the Pharping Highway and is a weekend gateway for many birders as well. There are a lot of native species of birds, mammals, and fish. Along with this Taudaha is also famous for its winter migratory birds like the rudy shelduck and cormorants. Species of birds like Mallards, Common Teal, Common Coot, Kites, Eagles, etc can be spotted.
Godavari:
Godavari, one of the popular destinations for a lot of people in the valley is located on the south-east side of Kathmandu and an 8 km bus ride from Lagankhel. This place is famous for the Botanical Garden and the Phulchowki hill behind. Spreading in 82 hectors of land, Botanical Garden is quite a place for nature photography and bird watching. Along with the park the hike up the Phulchowki is also recommended for the sightings of various flora and fauna. Both Godavari and Phulchowki is good for macro photography and wildlife photography as you can find various butterflies, dragonflies and other insects, birds like Woodpeckers, Owls, Kalij Pheasant, Black Eagle, Doves, Rose-ringed Parakeets, Barbets, Minivets, Shrikes, Drongo, Babbler, Laughing Thrush, etc.
Apart from these popular destinations, there are places like the Gokarna Shaid Smarak Park in Kapan, the pine forests of Hattiban, the vast fields in and around Khokana where I along with other bird watchers and nature photographers go. Along with this if you love macro photography like me then spotting insects and taking photos of it happens almost everywhere as you will able to find them from the city center the wilderness.
Note: Wildlife Conservation Nepal conducts Nature Photography Programs for amateur photographers and enthusiasts while Bird Conservation Nepal conducts regular bird-watching programs around the valley. Get in touch with them if you want to be involved in the local organization's events.
Ajay Narsingh Rana is a wildlife / adventure photographer and blogger. Along with this he is also working as a NOLS certified wilderness first responder and teaching wilderness first aid in rural areas. You can read his blogs at http://prakritinepal.com/