We are currently and collectively facing the most urgent environmental crisis – CLIMATE CHANGE and the devastation of our beautiful planet. One of the major reasons being unthinking consumption and pollution. WCN's ArtLife Program was created to bring awareness to the urgency of this crisis. Art as a medium is accessible and transcends all cultures, borders, ages, caste and creed. We therefore created something that would speak to as many children and adults as possible as a floating art exhibit about what affects us on a daily basis – POLLUTION in Kathmandu Valley.
I am a London based Nepali artist, mother and educator and strongly believe artists have a social responsibility (because of our ability to communicate to an audience) to start important dialogues and EDUCATE. Spring 2019 brought about such an opportunity by being given the chance to collaborate with the closest and oldest of my friends, the very inspiring Mrs. Sanjeevani Yonzon Shrestha and her wonderful team at WCN, Nepal.
Being passionate about the subject and in the privileged position of being able to educate the next generation, we put our heads together and created a 3D art competition open to all schools in Kathmandu Valley. The idea was to get children to think about the environment they live in, to open their eyes and see the pressing issue that surrounds us day to day in Kathmandu… the very poor air quality, choked-up river systems, the absolutely devastating and overwhelming amount of plastic pollution to name a few.
Reuse and recycle being my personal motto (haha!) - the brief also required the children to think of materials that would be used to create these sculptures. It was important for us to make them think of and understand how small changes in our daily lifestyle choices can impact the larger issues which surround us all. I also wanted them to experience the pleasure and satisfaction of having created something beautiful from "nothing" (waste).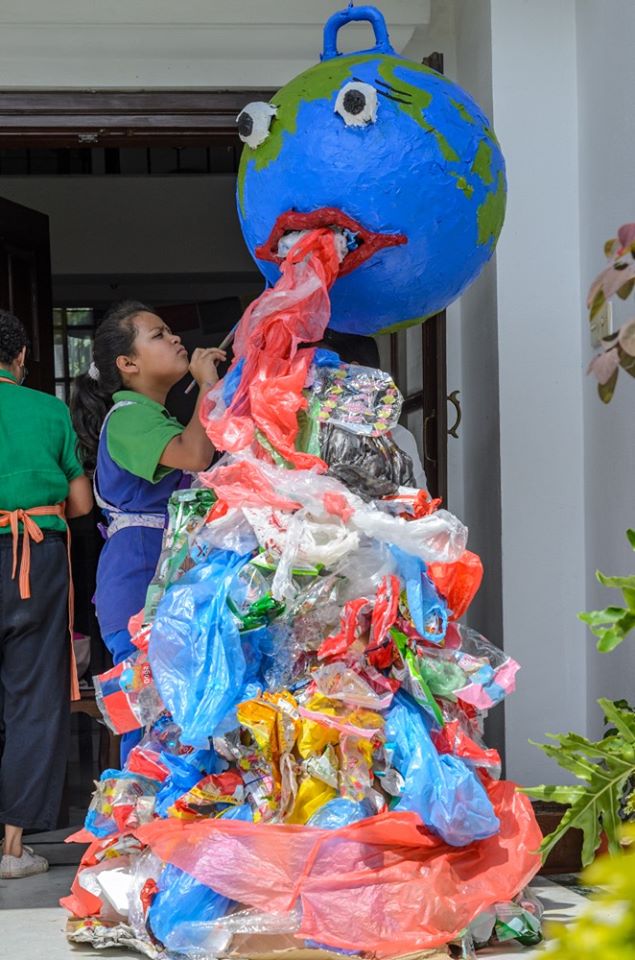 The brief was open to all but also went out specifically to a group of schools that WCN regularly work with. It is a refreshing mix of schools which cater to children of different backgrounds and socioeconomic groups. We were also looking for… not necessarily the best "artists" or in other words, children who can draw very well. We were looking for the most creative ideas. Children who could look at the problem and come up an original idea to create a 3D sculpture to visually communicate the message of POLLUTION to the general public.
100s of entries later, we shortlisted 30 applicants to attend the final workshop and the 3 finalists to be able to see their pencil sketch turned into an original 3D sculpture over 2 days in August. The art workshop introduced the children to some colour theory, techniques and mediums and most importantly the space and opportunity to learn and freely create. Art and creativity is unfortunately not always valued nearly enough but needless to say, it is something so intrinsically essential as human beings to be able to express ourselves. It teaches us to respect others, experiment with materials, see another point of view, innovate, explore, envision solutions, persevere, have an opinion, appreciate beauty, value aesthetics, observe, self-evaluate, reflect on our work, learn from mistakes, embrace diversity, find our voice, make connections and collaborate!
After emails back and forth for months and after finally getting to meet the entire WCN team in person, as the August heat beat down on us and the late monsoon clouds loomed on the periphery of our days together, I can truly say how magical my experience was.
To be able to share my knowledge and passion with a group of the most magnificent children and their supporting adults - all eager and thirsty to learn, truly helping and looking out for each other and to watch them collaborate so beautifully… it was an absolute pleasure and honour to spend my time with them. They exceeded all expectations and worked incredibly hard together to create a wonderful exhibit of very high-quality work. The exhibit has been doing the rounds of the schools the children attended from to inspire and educate others whilst also being able to share their sense of accomplishment which should generate more conversations and interest on the subject.
The workshop culminated in an exhibition which received a lot of attention and support from the families and friends of the attendees, supporters and friends of WCN and we were also honoured to have Mr. Sujan Chitrakar, Artist and Head of Department, Kathmandu University as our Chief Guest. We also attracted media attention and write ups in the local papers. Our hope is that our message and mission have a ripple effect which creates wide circles of change in our beautiful country.
The children's attitude towards life and learning was inspiring and heart-warming as illustrated by this quote by John F. Kennedy – "Children are the world's most valuable resource and its best hope for the future".
Priyanka Rana-Iandoli is the founder of The Crafty Cat Art Club (www.instagram.com/thecraftycatartclub) in UK. She can be reached at thecraftycatartclub@gmail.com